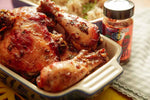 If you've never had jerk chicken before, the ingredient combination here may shock you.
But, you'll happy when you get your first taste. It's some kind of amazing.
Oh, and all those ingredients just get plopped into a blender or food processor, so you actually don't need to worry about the amount of work that goes into this recipe. Indeed, for 4 people, you can't actually ask for an easier recipe. Most of the work is done by the ingredients as they blend in the fridge. (Yay for that!)
And, if you've been to the Caribbean before, you know that nothing tastes more like island living than this recipe does. (Well, this and rum, when you think about it.)
If winter is getting you down, this is totally how you beat it.
Ingredients
For the habanero jerk marinade
1-3 teaspoons Mad Dog 357 Habanero Puree
1 small onion, quartered
3 stalks Green onions, coarsely chopped
2 cloves Garlic, peeled
1⁄3 cup Olive oil
3 tablespoons White wine vinegar
3 tablespoons Lime juice
3 tablespoons Orange juice
3 tablespoons Soy sauce
2 tablespoons Brown sugar
1 tablespoon fresh thyme
2 teaspoons Allspice
1 teaspoon salt
¾ teaspoon Cinnamon
½ teaspoon Black pepper
½ teaspoon Nutmeg
For the chicken
4 large or 8 smaller pieces Chicken, bone-in
Oil, for cooking
Preparation
Combine the Mad Dog Habanero Puree with the remaining marinade ingredients in a food processor or blender. Blitz until smooth, then pour into a large, Ziploc bag. Add the chicken to the bag and squish around to coat all the pieces. Place in the fridge and marinate for at least 8 hours (a whole day is even better).
Heat your oven to 400ºF and line a tray with baking paper or foil and place the chicken pieces, with the marinade, in it. Broil for 30-40 minutes, until the chicken is cooked through, turning and basting with the marinade at least once. Allow the chicken to rest for five minutes and serve with a little more Mad Dog and perhaps some coconut rice.