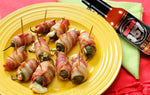 Holy jalapeño, these babies are amazing.
Mad Dog, jalapeños, cheese, sausage, and bacon… could you ask for more?
All we know is that you'll ask for more of these at your Cinco de Mayo party – or just because you can't get enough of these snacks. We suggest them year-round and all-day-long – and, you'll probably want to double this recipe off the bat.
14 just doesn't seem to be enough, does it?
Ingredients
14 large Jalapeño peppers
1 teaspoon Mad Dog Pure Gold Pepper Hot Sauce
4 ounces Cream cheese,
14 miniature Smoked sausages
7 strips Bacon strips, cut in half lengthwise
Preparation
 Preheat your oven to 350ºF and set aside a 13×9" baking dish. (Leave it ungreased.)
Cut a slit into each jalapeño (long and large enough to stuff the peppers). If you want, remove the seeds and membranes, but we're not sure that's necessary
Combine the Mad Dog Pure Gold Pepper Hot Sauce with the cream cheese and mix well. Spread a teaspoon this mixture into each pepper, then stuff each with one of those sausages. Wrap each pepper with a halved bacon strip and secure with a toothpick. Place wrapped peppers into the baking dish and place in the oven. Bake (uncovered) for 30-35 minutes until the peppers are wonderfully tender.