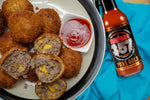 One of our 15-year-old fans created this recipe using one of his favorite Mad Dog hot sauces.
And, who wouldn't spend their time dreaming of this recipe? Meat and cheese that's filled with fire and then fried? Yeah, it's as incredible as it sounds.
And, hey, if Oscar can do it, you definitely can whip this up.
Serves: 4
You'll need:
½ tsp Mad Dog 357 Pure Gold Hot Sauce
1 lb. ground beef
1 clove garlic, minced
½ onion, minced
salt and pepper, to taste
3½ oz. cheddar cheese, cut into small cubes
1 cup all-purpose flour
2 eggs, beaten
1cup breadcrumbs
oil, for deep frying
oven, preheated to 150°F
ketchup mixed with Mad Dog 357 Pure Gold Hot Sauce, to serve
Preparation
Combine the Mad Dog 357 Pure Gold Hot Sauce with the ground beef, garlic, onion, salt, and pepper in a mixing bowl. (Wear gloves so you can really get in there.) Form into meatballs, then press a cube of cheese into each one and make sure they're completely covered by the ground beef mixture.
Fill a large soup pot with a few inches of oil and heat over medium heat so it's ready when the meatballs are.
Coat each meatball with flour, then dip in the egg and then coat with the breadcrumbs. Repeat with the remaining meatballs.
When the oil is hot, fry a few meatballs at a time. When cooked, transfer them to a baking sheet and place in the oven, then continue until all the meatballs are cooked.
Combine the ketchup with a few drops of Mad Dog 357 Pure Gold Hot Sauce and serve the Boomslang Bites hot with this dipping sauce.