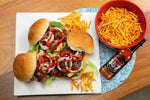 Whether you choose to go with pre-cooked sausages, or you toss bratwurst on the grill.
This slider sandwich will give you a whole new level of sausage appreciation. Really, it's the Mad Dog mixed into the ketchup, but these sliders are so addictive that you'll find yourself making them week after week – all year long. Still, we know they're best on those long, hot, summer days with a cold beer and plenty of chips.
Have some Mad Dog dips on the side.
Ingredients
½-1 teaspoon Mad Dog 357 Pure Gold Hot Sauce
6 tablespoons Ketchup
12 ounces Sausages (beef, pork, venison, your pick), prepared according to package instructions
6 each Slider buns (or your favorite small rolls)
3 handfuls lettuce leaves, roughly torn
6 slices Cheddar or American cheese, each broken into 4 quarters
1 small Onion, sliced
Preparation
Combine the Mad Dog 357 Pure Gold Hot Sauce with the ketchup and set aside. Slice the prepared sausage into slider-sized pieces (lengthwise or widthwise is your choice) and set aside.
To assemble sandwiches, slice opens the slider buns and top the bottoms of each with lettuce. Add the cheese slices then the sliced sausage. Top with onions and a good dollop of your Mad Dog ketchup. Replace the tops and serve with chips and some more Mad Dog on the side.