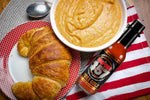 Before winter slips into memory, you've got to try this gorgeous soup.
The blend of flavors will make you wonder why you haven't been eating it all day, every day for the past several months. Now, this recipe will make enough for two people, but you may just want to double the recipe straight away as few things are as yummy as this.
Seriously.
Ingredients
2 medium-sized Sweet potatoes, peeled, cut into 1½" cubes
1 each Red onion, chopped
2 tablespoons Olive oil
Pinch salt
1 teaspoon ground thyme
¼ teaspoon of Ground cumin
½ teaspoon Mad Dog 357 Pure Gold Hot Sauce
2 cups Vegetable stock
Black pepper, to taste
2 tablespoons Sour cream
Preparation
Preheat oven to 450°F. Place sweet potato cubes and onions in a large bowl. Drizzle over the oil and sprinkle with the salt, thyme, and cumin. Toss so all pieces are well coated.
Spread the sweet potatoes and onion on a foil or silicone lined baking sheet. Roast for 25 minutes or until cooked and nicely caramelized around the edges. Remove from the oven.
While the sweet potatoes are roasting, heat the Mad Dog 357 Pure Gold Hot Sauce and chicken stock in a saucepan over medium heat.
Place the cooked sweet potatoes and onions in a blender and add the hot chicken stock. Purée until smooth.  Taste for seasoning, add more salt and pepper to taste. Serve in bowls with a dollop of sour cream.