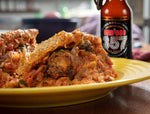 Stuck at home and desperate for a super-hot, super-filling sandwich?
We've got the one you need. It's gonna hit the spot like nothing else. For real. It's meat. It's cheese. It's fast. And it'll knock your Scoville socks off.
Give it a try. You won't be sorry. Ever.
In fact, you'll probably eat both portions yourself.
Serves: 2
You'll need:
2 Italian sausages, cooked according to package instructions
2 hot dog buns, split open
2 teaspoons Mad Dog 357 Pure Gold Hot Sauce
1 cup chunky-style spaghetti sauce
1 cup cheddar cheese, shredded
Preparation
Preheat the broiler on your oven.
Place the hot dog buns on a small baking sheet and top with cooked Italian sausages.
In a bowl, combine the Mad Dog 357 Pure Gold Hot Sauce with the spaghetti sauce and cheese. Spoon this sauce over the sausages, trying to keep as much of the sauce in the buns as possible.
Place baking sheet under the broiler and cook until cheese has just melted and the buns are toasted. Serve hot with as much Mad Dog as you can handle.