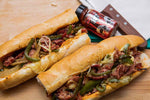 There are few things as good as a cheesesteak sandwich.
Really. There are few things more that you could ask for…well except for super fiery Mad Dog. And, that's just what we've done. And while this recipe for two is wonderfully simple, the way the flavors blend and merge is something like magic.

Beef, cheese, Mad Dog, and a few veggies for flavor… as we said, there are only a few things better in this world.
And, right now, we can't think of any.
Ingredients
½-1 teaspoon Mad Dog 357 Naga Morich Pepper Puree
½ cup Marinara sauce
1 loaf Italian (or French) bread
½ pound Deli roast beef (as rare and thinly sliced as you can get)
1 small Onion, thinly sliced
1 each Green bell pepper, thinly sliced
2 cloves Garlic, minced
1/3 pound Provolone cheese, thinly sliced
Extra-virgin olive oil (you can substitute other oil if you must but it won't taste the same)
Salt and pepper, to taste
Preparation
In a bowl, combine the
Mad Dog 357 Naga Morich Pepper Puree
with the marinara sauce. Slice open the bread lengthwise and liberally spread the Mad Dog marinara mixture inside.
Heat a large skillet over medium-high heat. Wait until the pan is hot, then drizzle in enough extra-virgin olive oil to cover the bottom. Add the
onions
and bell pepper and cook until caramelized, stirring very regularly. It should take about 6 to 8 minutes.
Add the garlic, along with a good sprinkling of salt and pepper, and cook for 30 seconds. Scoop the
veggie
mixture out of the skillet and into a bowl. (Keep it close, it will go back into the pan in a few minutes.)
Place the meat in the skillet and cook for about 2 minutes, continually flipping it and breaking it apart with your spatula. When the meat is hot and no longer pink, return the veggies to the skillet and combine with the meat.
Place the cheese slices over this mixture and allow the cheese to melt. When it's melty and gooey, scoop everything into the bread with the Mad Dog marinara pre-spread inside.
Slice sandwich into 2 and serve hot.