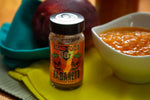 There may be nothing better than the combination of mango and habanero; they just bring out the best in each other.
You just need the right mix and this recipe is just about full-proof. Don't have the distilled vinegar? Substitute white wine vinegar and cut ¼ cup of sugar. Don't have a lime on hand? Substitute just the juice of a lemon. And, you can always swap out the mango puree for pureed mango pieces. It's almost impossible not to get this hot sauce right.
And, good just doesn't go far enough to describe the flavor; it's so much more. It's somehow spicy and sweet with the heat you really want from any condiment. (And if you want it hotter, add a little more Mad Dog 357 Habanero Puree.)
We seriously suggest pairing this with chicken, though it's not at all bad with pork or fish either. Or, use it as a salsa for tacos and you'll totally tickle your taste buds. Just be sure to order more Mad Dog 357 Habanero Puree in plenty of time...
This is seriously addictive.
Ingredients
1 teaspoon Mad Dog 357 Habanero Puree
1 cup Carrot, grated
1 each Lime, zest, and juice
10 ounces Mango puree
1 large Onion, roughly chopped
4 cloves Garlic
½ cup Distilled white vinegar
¾ cup Sugar
1 teaspoon salt
Preparation
Place the Mad Dog 357 Habanero Puree in a food processor or blender with the carrot, lime zest and juice, Mango, onion, garlic, and vinegar. Pulse until finely chopped and blended. Add to a stockpot with the sugar and salt. Bring to a boil, then reduce the heat to medium and cook, stirring occasionally, for 10-15 minutes until mango and onion are very soft.
If you prefer a more blended sauce, return the mixture to your food processor and pulse until it's as smooth as possible. If that's still not enough, press it through a fine sieve and just keep the juices.
Allow the sauce to cool to room temperature before chilling and storing it in the fridge. It will keep for 7-14 days in the fridge, so feel free to douse everything with it!