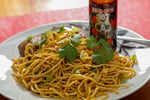 These noodles make for a delicious and (almost) surprising accompaniment to steaks with delicious sauces.
We're not exactly sure why that is, but we think it's the heat of the reaper peppers mixed with the salty soy sauce and the sweetness of the sugar.
Whatever it is, these noodles would also be fine on their own (you know, for vegetarians), but we strongly suggest pairing them with a steak and wine sauce. Somehow, doing so, makes these appropriate for a date night dinner at home.
If you don't have any Mad Dog Dried Reaper Peppers to hand, substitute plenty of normal dried red chili flakes… and then order yourself some more reaper peppers. It's seriously worth it. (Of course, if your date can't handle the heat, we suggest cutting down here rather than on the Mad Dog 357 Reaper Sriracha Hot Sauce – that's totally necessary.)
Now, what on earth are you waiting for?
You really won't believe how good these noodles really are.
 Ingredients
 4 ounces Lo-mein noodles
½ teaspoon Mad Dog 357 Reaper Sriracha Hot Sauce
1 tablespoon Brown sugar
1 tablespoon Soy sauce
1 tablespoon Mayonnaise
2 tablespoons Butter
a corner of Mad Dog Dried Reaper Pepper, cut into small flakes
1 large egg, lightly whisked
1 handful fresh cilantro
1 stalk Green onion, sliced
Preparation
Cook the noodles in boiling water according to package instructions. Drain and set aside.
Meanwhile, stir together the Mad Dog 357 Reaper Sriracha Hot Sauce with the sugar, soy sauce, and mayonnaise. Set aside.
Heat the butter in a large skillet over medium-low heat and add the Mad Dog Reaper Pepper Flakes. Add the egg to the skillet, stirring gently until cooked through, then remove from the heat.
When the noodles are ready, place them in the egg skillet along with the sauce. Heat on low to release any extra moisture, then stir to coat everything evenly. Sprinkle over the cilantro and green onions and serve.