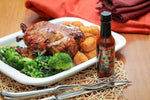 Need a super easy recipe that'll blow any $5 rotisserie chicken out of the park?
You've got it. Hell, this chicken is in a league of its own. You just couldn't ask for more in a basic roast recipe. Fire. Flavor. Fast.
Freaking awesome, right?
Serves: 2-4
You'll need:
1 small whole chicken (giblets removed)
1 onion, peeled, with the ends cut off
1 tsp Mad Dog 357 Reaper Sriracha Hot Sauce
1/3 cup BBQ sauce
salt and pepper, to taste
oven preheated to 350°F
baking sheet lined with foil or parchment paper
Preparation
Stuff the onion in the open cavity of the chicken and place it on your baking sheet. Combine the Mad Dog 357 Reaper Sriracha Hot Sauce with the BBQ sauce and slather all over the chicken. (Wear gloves or you'll be sorry.) Season with salt and pepper.
Place the baking sheet in the preheated oven and cook for 60-90 minutes (depending on the size of the bird), basting occasionally with the remaining Reaper BBQ sauce.
When cooked through (it's no longer pink on the inside), slice and serve hot with a side of potatoes and some greens.