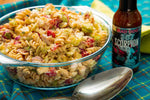 Whether you're headed to a picnic or planning to grill this Memorial Day.
You'll need a salad of sorts. But, it doesn't need to be the same one you make every year.


In fact, we believe that it really shouldn't be.


And, we're certain that once you see this one, you're going to be wowed by the flavor and the heat found in every single bite. C'mon… it's got bacon, pasta, plenty of flavors, and even more of the biting heat of the scorpion pepper.

There isn't anything not to love about this salad – and plenty to recommend it to the 8 people that will gobble it up. (Maybe you should make that 4-6 people, as the first few will be back for seconds before anyone else can get in there.)

Ingredients
8 ounces Rotini, or another short pasta
1 teaspoon Mad Dog 357 Scorpion Hot Sauce, to taste
½ cup Mayonnaise
½ cup Sour cream
1 package Ranch dressing mix
2 tablespoons White vinegar
1½ cups Cherry tomatoes halved
1 cup Swiss cheese, cubed
¼ cup Red onion, chopped   
8 slices Bacon, cooked and crumbled
1½ cups Lettuce, finely chopped
Salt and pepper, to taste
Preparation
Cook the pasta according to package directions, then drain and set aside.

Combine the Mad Dog 357 Scorpion Hot Sauce with the mayo, sour cream, ranch mix, and vinegar in a large bowl.

Add the remaining ingredients, including salt and pepper, to taste. Stir to combine and then refrigerate until ready to serve.