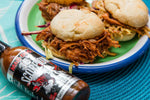 There is no good reason not to keep this recipe close to hand at all times. Really.

Now, it may seem as though there's a lot too it, but there really isn't. And, except for the work you do shredding the cooked pork, there's almost nothing to do but drool as you start to smell the meat cooking – and combine it with the BBQ sauce that has plenty of kick.

Here's what we do suggest, however, tasting the BBQ sauce after it has chilled for a few hours, you may just want to tuck in a little more Scorpion Hot Sauce (it all depends on the original flavor of your BBQ sauce, and that's totally up to you).

If you're wondering why you need this recipe more than just about any other on the planet; it's because it's just too versatile for words. It can be dinner. It can be lunch. And, best of all, these pork and scorpion sliders make the most incredible binge-watching food when paired with a cold beer and that series you can't stop watching.
Ingredients
For the pulled pork

3 tablespoons Cajun seasoning
1 tablespoon Brown sugar, packed
4½-5 pounds Pork butt (opt for more if you purchase it with the bone-in), be sure to remove the netting
1 medium Onion, thinly sliced
4 cloves Garlic, minced
2 cups Chicken broth (if you have pork broth, even better)
a few drops of Mad Dog 357 Scorpion Hot Sauce

For the scorpion BBQ sauce

1-2 tablespoons Mad Dog 357 Scorpion Hot Sauce
2 cups Barbecue sauce
2 cloves Garlic, minced

For the sliders

a few cups Coleslaw (your favorite, as much or as little as you like)
Salt and black pepper, to taste
20-30 each Slider rolls

Preparation
Combine the Cajun seasoning with the sugar and rub it into the pork butt. Place in your slow cooker, top with the onions, garlic, broth, and as much Mad Dog 357 Scorpion Hot Sauce as you like (though, keep in mind there is more in the sauce). Cover and cook for 3-4 hours on high or 7-8 hours on low, until the pork, is fork-tender.

Meanwhile, mix the Mad Dog 357 Scorpion Hot Sauce with the other ingredients for the scorpion BBQ sauce together. Cover and set aside. (It will actually last a couple of weeks in the fridge if you want to go ahead and make a double batch now.)

When the pork is ready, allow it to cool slightly on a cutting board, reserving the liquid in the slow-cooker. Shred the pork with a couple of forks, your fingers, or serrated knives (whatever method works best for you).

Mix the shredded pork with the scorpion BBQ sauce, adding some of the cooking liquid if the mixture is too dry.

Slice open the slider rolls, top with a little coleslaw, plenty of the pulled pork, and replace the tops.