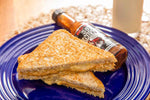 If you've ever been to Memphis...
You already know that Elvis Presley loved his banana sandwiches; they serve everywhere in the area. (And, if you didn't know… you're welcome!)
Now, you could add some bacon if you wanted (and we don't see why you shouldn't) – but we think the very best way to update the Elvis sandwich is with a couple of drops of our scorching scorpion hot sauce. It's the business.

We're totally into what the heat does to the peanut butter, and especially the fruit in this sandwich. It's sort of like a spicy dessert and it's something you absolutely have to try.
May we suggest enjoying it on Grammy night? It's exactly what we'll be doing.
Ingredients
2 slices Bread
2 tablespoons Peanut butter (smooth, if you have it)
1-3 drops Mad Dog 357 Scorpion Pepper Hot Sauce
1 ripe Banana, mashed
2 tablespoons Butter
Preparation
In a small bowl combine mashed banana and Mad Dog 357 Scorpion Pepper Hot Sauce

Spread the peanut butter on one slice of bread and the mashed banana on the other. Press the slices gently together. Melt the butter (or to be truly Elvis-like, melt bacon fat!), over low heat in a small frying pan. Place the sandwich in the pan and fry until golden brown on both sides. Eat it with a glass of buttermilk.