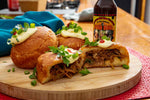 Mad Dog's Pulled Pork Doughnuts
You may not think hot sauce, pulled pork and doughnuts have anything to do with each other. But, you're wrong - and these fiery delights prove it completely.

Now, they do take a bit of time and effort, but they're so freaking delicious that you're going to need them constantly. And, listen, if all you have is cooked shredded chicken hanging about, you're not going to be at all upset by the change.

Is it breakfast or dinner? Who cares?
These are the perfect any time snacks!


Makes: 12 doughnuts
You'll need:
2 cups all-purpose flour
1 packet instant dried yeast
2 tablespoons sugar
2 teaspoons salt
3 tablespoons butter, softened
1 egg
1 egg yolk
1/2 cup Parmesan cheese, finely grated
3 1/2 FL oz. warm milk
3 cups pulled pork, cooked
1-2 teaspoons
Mad Dog 357 Hot Sauce
oil, for frying
mayonnaise and green onions, to serve
Preparation
In a stand mixer, combine the flour, yeast, sugar, salt, eggs and
cheese
. Mix slowly until the dough comes together, adding a little milk at a time; you may not need all of it.
Use a dough hook to knead the dough for 15 minutes on medium speed, until it is smooth and elastic. Roll into a ball, then return it to the mixing bowl and cover with plastic wrap. Leave on the counter until it doubles in size (1-2 hours).
Meanwhile, combine the
pulled pork
with the Mad Dog 357 Hot Sauce. Set aside.
When the dough is ready, divide the dough into 24 balls of roughly the same size, then flatten into rounds. (You may need a little extra flour on your work surface to prevent sticking.) Top half the rounds with the Mad Dog pork mixture, then top with the remaining rounds. Pinch and smooth the ends to ensure the filling stays inside while frying. Place doughnuts on a baking sheet and cover (loosely) with cling film until the doughnuts have doubled in size.
Heat oil in a deep saucepan over medium-high heat. Then place a few doughnuts at a time in the hot oil. Fry for about 4-5 minutes per side, turning as needed to prevent burning. Drain on paper towel until cooled, then top with mayonnaise, green onions and a dab of Ma Dog 357 Hot Sauce to serve.