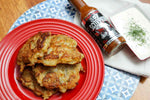 Red Potato Horseradish Cakes with Hickory-Grilled Bison and a Wild Huckleberry Reduction.
We're going to take a guess that the bison and huckleberries are a little too much for most home cooks. But you can put a Mad Dog spin on the potato cakes without too much trouble. Indeed, we recommend it. This recipe should feed about 4 to 6 people… but we're certain there are those that will want to sit down and eat all of these themselves.
Yes, they're that good.
Ingredients
1 onion, grated
3 each Russet potatoes, peeled and grated
2 tablespoons all-purpose flour, plus more, as needed
2 teaspoons Mad Dog 357 Scorpion Hot Sauce
2 each Egg
3 tablespoons Horseradish, finely-grated and fresh
¼ cup Fresh dill, chopped
¾ teaspoon Salt
½ teaspoon Black pepper
6 tablespoons Olive oil
2 tablespoons Butter
1 cup Sour cream
Fresh dill sprigs, for garnish  
Preparation
Place the onion and potato in a medium bowl and combine. Dust over the flour and mix it into the veggies. Then, add the Mad Dog Scorpion Hot Sauce, with the eggs, horseradish, dill, salt, and pepper. Wearing gloves, use your hands to mix until well combined. Set aside.
Heat the oil and butter in a large (non-stick) skillet over medium-high heat. When hot and the butter bubbles have subsided, scoop 3 tablespoons of the potato mix into the pan. Add more scoops depending on the size of the skillet.
Cook potato cakes for about 4 minutes on each side – until the potato is cooked and the outsides are browned. Remove from the pan and drain on paper towels. Keep warm with foil or in the oven. Continue with the remaining potato mixture. Serve with a dollop of sour cream, an extra drop of Mad Dog Scorpion Hot Sauce, and a sprinkling of dill.