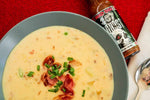 Not sure what to do with all those leftover potatoes from Christmas dinner?
That's okay; we know exactly what you should do – it's this loaded lava soup. It's perhaps the best thing you can do with potatoes at any time of the year. And, if you find yourself craving it in the middle of summer, you're not alone. We've left the amount of Pure Ghost Hot Sauce a little vague for a reason – it's delicious with just a dash of heat and amazing with more...
If you can handle it.
Ingredients
12 ounces Bacon
1½ cups Onion, chopped
1 teaspoon – 1 tablespoon Mad Dog Pure Ghost Hot Sauce
6 cups Chicken broth
2 pounds (leftover cooked) Potatoes – cubed or mash works fine, it will just provide different textures
2/3 cup butter
¾ cup All-purpose Flour
3 cups Milk
8 ounces Sour Cream
¾ cup Green onions, sliced
Salt and pepper, to taste
Preparation
Use a large pot to cook the bacon over medium-high heat for about 6 or 7 minutes until crisp. Remove bacon from the pot and set aside to cool, then crumble and set aside.
Add the onion to the same pot and sauté for about 6 minutes until tender. Stir in the Mad Dog Pure Ghost Hot Sauce and toss to coat the onions. Then add the broth and potatoes. Stir to combine and allow to boil. Then reduce the heat to low and cover.
In a separate skillet, melt the butter over low heat. Then, stir in the flour and whisk until smooth. Cook for a minute and then stir in the milk. When well combined, pour this mixture into the large pot with the potatoes. Stir to combine and then add the sour cream, green onions, and bacon. Stir and heat the mixture through then season to taste and serve.