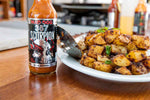 Who doesn't love a spicy, crispy potato dish?
Yeah, we don't know either. And these babies are deliciously hot. Not only that, but our Spicy Spuds also take almost zero effort to prepare (we even suggest leaving skins on the potatoes). Whether you want to add some zing to your meals, or you're looking for your new go-to recipe, this is the one to try this weekend.
You'll easily serve 4 people with this side dish, but you can always add some crumbled bacon or chili con carne and call it a meal.
 Ingredients
1 teaspoon Mad Dog 357 Scorpion Hot Sauce
1 packet Onion soup mix
2 tablespoons Olive oil
2 stalks Scallions, chopped
1 pound Potatoes, cut into small pieces
Preparation
 Preheat your oven to 450ºF.
In a mixing bowl, add the Mad Dog 357 Scorpion Hot Sauce along with all the other ingredients except the potatoes. Stir to combine, then add the potatoes and toss to coat evenly. Lay the potatoes in a baking dish and place in the oven. Bake for about 40 minutes, until the potatoes are cooked, though. Serve warm (with extra Mad Dog 357 Scorpion Hot Sauce for daring souls).