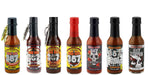 Everyone is staying home these days – even as lockdown regulations ease across the country.
If you want a positive spin on the situation, think of it as a chance to clear through your hot sauce stash.
On the downside, you're not getting on a plane out of the country any time soon. That has just as much to do with the travel bans other countries have in place, as your own comfort and security.
But you can travel the world through the various varieties of chili peppers and regional hot sauces you probably have in your kitchen right now.
Take a look.
Head South of the Border.  Ready to begin your international holidays with a slow burn rather than deep heat? Start with something simple, like some Habanero Pepper Puree. Your options are near endless. Think tacos, burritos to start it off, but you don't need to end there. Let your imagination run wild.
Want a Caribbean Holiday? Open a bottle of Mad Dog 357 Scorpion Hot Sauce and taste a little island heat. You may want to add it to your jerk chicken or a pork stew over rice. Pour yourself a drink and watch the sunset to really bring the experience home.
Add India to Your Itinerary. Whether it's Ghost Pepper or Pure Ghost for you, the taste of these hot sauces will carry you across the ocean to a land where chili peppers are just part of life. Make a curry to make your night in South Asia complete.
Do You Dream of an African Safari? If the animals and diversity of Africa are calling your name, you should get yourself a bottle of Mad Dog Boomslang Hot Sauce. Add it to peanut soups, flame-grilled chicken or shakshuka eggs to cross the wild continent in your kitchen.
When you're ready to head home, simply click your heels together three times and remember that Mad Dog is proudly American, growing the hottest chili peppers you'll find and shipping them to your door. That way you can travel the world without leaving your home.
You're welcome.
Ready to live life to the hottest? Get more Mad Dog today.