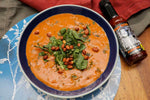 Peanut soup is traditionally an African soup
We changed up this recipe for 4 people with some Mad Dog 357 Ghost Pepper Hot Sauce for some seriously stellar results.
Don't believe it? We dare you to try it.
It's just so creamy and dripping with goodness that you'll soon notice your bowl is empty. At the same time, you won't believe just how full you'll become without any meat on your plate. But then, it is filled with peanut butter.
That and some serious heat.
Ingredients
1 tablespoon Olive oil
1 Red onion, chopped
4 cloves Garlic, minced
6 cups Chicken or vegetable broth
1 teaspoon salt
1-2 teaspoons Mad Dog 357 Ghost Pepper Hot Sauce
1 cup Peanut butter, chunky or smooth
½ cup Tomato paste
1 bunch Collard greens, chopped into strips
¼ cup Peanuts, roughly chopped peanuts
Preparation
Heat the oil in a large stockpot over medium-high heat. Add the onion and cook, stirring as needed, for 5-6 minutes until the onions become translucent. Add the garlic and cook for another 30 seconds. Reduce the heat to medium-low, add the stock and salt, and cook for 20 minutes.
Add the Mad Dog 357 Ghost Pepper Hot Sauce along with the peanut butter and tomato paste and stir until the peanut butter melts into the mixture and the ingredients are all well combined.
Stir in the collard greens and simmer for another 15 minutes, stirring regularly. Serve with the chopped peanuts and the bottle of Mad Dog 357 Ghost Pepper Hot Sauce on the side for those that love the heat.