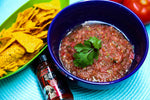 Quick, easy, and freaking hot and delicious… this salsa recipe will replace any store-bought varieties you thought were your favorite.
It's got that lovely Tex-Mex flavor you've come to expect in a good salsa – at a fraction of the price and with almost no effort whatsoever.
The Mad Dog 357 Naga Morich Puree draws out the sweetness of the tomatoes as well as the tartness of the lemon juice (we strongly advise using fresh-squeezed lemon juice for the best results), but it's the garlic and cilantro that really round out this salsa.
And, though we love this on National Nachos Day (November 6th), it's a stunning accompaniment for pulled pork tacos and slow-cooked beef. But, why be shy about it? This is the kind of thing you truly want with just about anything (and you'll look for vehicles for this Naga Salsa – hot dog anyone?).
This recipe will last for about a week in the fridge, but we can't see how it will ever last that long unless you were going to double or triple it. That said, we will give you a tip – start with a small amount of the Mad Dog 357 Naga Morich Puree and the salt, taste, and then stir a little more in as taste demands.
Remember too – plain chips are better than anything if you want to really taste this salsa. If you really need to add some cheese to it – melt it onto the plain chips rather than opting for those artificially flavored cheese chips.
You'll thank us for the advice – and the recipe. Now, enjoy it!
Ingredients
¼-1 teaspoon Mad Dog 357 Naga Morich Puree
6 each tomato, chopped
½ each Onion
½ cup Fresh cilantro
3 cloves Garlic
1½ to 2 teaspoons ground cumin
1 teaspoon Sea salt
2 tablespoons Lemon juice
Preparation
Place the Mad Dog 357 Naga Morich Puree in a food processor or blender and pulse until combined, but not too soupy. Serve with plenty of dipping chips.