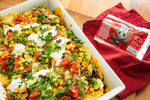 These nachos are truly loaded
But it's the Mad Dog 357 Reaper Pepper Pods that make this undeniably, deliciously, addictively outstanding.

Sure, everything else lends to this – otherwise you just couldn't call these "loaded" – but it's all starts and ends with the glorious burn of the reapers. As many as 8 people will tuck into this eagerly whether you serve it on National Nachos Day (on November 6th) or just because it's a Tuesday night.


Now, what are you waiting for?
Get the broiler on so you can start shoveling these Reaper Loaded Nachos in your mouth.

Ingredients
2 bags Tortilla chips (2 different varieties)
1 teaspoon Vegetable oil
1 pound Ground beef
1 Mad Dog 357 Reaper Pepper Pod, diced
1 Onion, diced
1 packet Taco seasoning
3 cups Monterey Jack cheese, shredded
3 cups Sharp cheddar cheese, shredded
1 can (16 oz.) Refried beans
1 can (15 oz.) Black beans, drained
1½ cups Salsa
2 cups Sour cream
6 Scallions, thinly sliced
1½ cups Corn kernels, thawed if frozen
2 Avocados, chopped
1 cup Fresh cilantro, coarsely chopped

Preparation
Preheat your oven to broil. Divide the chips between two baking sheets, ensuring that you mix the varieties up on both sheets. Set aside.

Heat the oil in a large skillet over medium heat. Add the ground beef, along with the chopped Mad Dog 357 Reaper Pepper Pod and onion to the skillet. Cook for 4-5 minutes, stirring to mix and break up the beef. When browned throughout, add the taco seasoning and just enough water to cover. Stir to combine and allow the water to evaporate. Remove from the heat and set aside.

Top the chips with half of both of the cheeses, all the beans, the Mad Dog ground beef, and then the remaining cheese.

Place the baking sheets in the oven and broil for 3-6 minutes, and the cheese has melted. Remove from the oven and top with the remaining ingredients. Serve with your favorite Mad Dog 357 Hot Sauce on the side.