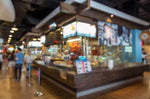 On any given day, more than a third of Americans consume fast food of some sort.
We all know we shouldn't eat so much of the delicious, greasy goodness that comes to us in our cars and while pausing between spending sprees at the mall.

We also know why we do it.

Fast food is, for a start, fast. That's a big help in our time-crunched modern lifestyles. It's also cheap. And, being filled with fats, salts, and sugars, it's deliciously addictive.

But, it can also be monotonous if you're consuming it as regularly as most American adults. Even spicy fast food ends up in this category, not least because it's rarely as hot or spicy as any good chili-head would demand.

Lucky you. We can help with that.
Your personal hot sauce arsenal for the food court
There's nothing we can do about your time management or reminding you to a snack before leaving the house. We're also not in a position to weigh up the nutritional content of your top food court meal choices.

We can, however, help you transform those somewhat ordinary fast food options into tongue-tingling experiences. After all, if you're going to do it, you may as well make the most of it, right?

Ready?

Simply pick a restaurant and grab the suggested Mad Dog hot sauce. Put the two together at the food court for something a little more magical than usual. (Plus, it'll put a little more speed in your step for the rest of the day.)

• Chick-fil-A: At this food court classic, you can add just about any Mad Dog hot sauce. That's because fried chicken and the best tasting, super hot sauces are naturally great friends.

• Auntie Anne's: Pretzels may be more of a snack than a meal, but that doesn't mean you should cut any corners on your hot sauce addiction. Go for Green Amigo here. Yeah, it's mild, but you can scoop the sauce with torn bits of a pretzel. Amazing.

• Sbarro: The thick richness of the sauce here almost begs for the sharp fruitiness of ghost peppers. From pizza to pasta, your only problem is keeping a steady hand while you allow just a few drops to escape your Mad Dog 357 Ghost Pepper hot sauce bottle.

• Subway: Life's a little easier when you can build your own meal. But still, you don't want to overwhelm the freshness of a Subway sandwich with anything too harsh. It's Inferno hot sauce all the way.

• Chipotle Mexican Grill: Make it a serious flavor fest by adding a little Caribbean to your Mexican. For real, a little Scorpion hot sauce is all you need to transform the three meals you get in one at this fast-food restaurant.

• A&W: Hot dogs, burgers, chicken. Could it be anything but our Mad Dog 357 Original Hot Sauce here? Try it once; you'll never hit the food court without a bottle of it again.

• Panda Express: Sure it's not the hottest out there, but our Liquid Fire blends seamlessly with just about every menu item at this Chinese-inspired food court classic.

• Steak 'n Shake: Every single steak burger on the menu can make the most of Reaper Sriracha hot sauce. The heat. The garlic. The blend of it altogether. You'll try to escape the fire here, but you won't succeed. And then you'll go back for more.

• Taco Bell: You're going to want something hotter than this fast-food restaurant's offering. But, you also it to be as tasty as it can possibly be. For us, it's Pure Ghost hot sauce on each menu item.

• Arby's: Our Boomslang hot sauce has just the right blend of fire and flavor for roast beef. More than that, it goes oh-so-well with horseradish. You'll see what we mean.

Now, it's a lot easier to mix your Mad Dog with fast food when you know what you're getting before you leave the house. Then again, you could just create a special hot sauce carrying case for moments of extreme indecision. Or, maybe just take your food to go.

Trying to get out of the food court scene?

If you're trying to cut your consumption of fast food, but you're all about the flavor profiles found on the food court floor, then you'll definitely want to check out our hot sauce blog. We've got terrifying hints of heat mixed with mindlessly easy preparation.

Just think, you could be enjoying a Spicy Scorpio Extravaganza Pizza with friends at home rather than a slice of pepperoni at the food court. Or, make your own Mad Dog Barbacoa Beef Burritos and take them with you to work to avoid the lunchtime food court trap. And, be sure to check out these Addictive Sausage Sandwiches if fast food breakfasts are more your style.

Need more Mad Dog?

Whether you're preparing your meals at home or heading out to the food court daily, you might just want to pick up more Mad Dog now. It'll save the embarrassment of tears later on.