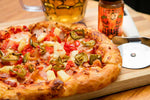 Pizza is easily one of the biggest pleasures life has to offer.
(Okay, there are plenty of simple joys at the top of the list, but we're going to steer clear of naming them all…) A slice of cheesy pizza, covered in toppings, and dripping with sauce is the sort of thing you want – pretty much all the time, right?
And, if you're looking for an excuse (as if you need one), October is National Pizza Month. That gives you 31 good reasons to indulge. We know that you'll cave and order pizzas for delivery at least a few times (good thing you have a few bottles of Mad Dog Hot Sauce on hand to get the heat levels right). But, when you have an hour to spare, you really should dive into this recipe.
Don't worry, it's not an hour's worth of effort. This pizza sauce just needs time for the flavors to blend and the consistency to reduce down to the thick richness that you've grown to love. And, because you'll get about 6 cups worth of fiery habanero pizza sauce, you can enjoy it on pizza after pizza. (Yes, it freezes well.)
We love the way the oregano and basil balance out the natural sweetness of the habanero pepper puree and add that classic touch, enhanced by plenty of garlic.
If you're not drooling yet, we just don't get it.
Ingredients
1-2 tablespoons Olive oil
3 cloves Garlic, minced
1 medium Onion, finely chopped
1 teaspoon Mad Dog 357 Habanero Puree
½ cup Chicken broth
3 cans (15 oz.) crushed tomatoes
Salt and pepper
Pinch sugar
1 teaspoon dried oregano
8-10 leaves fresh basil, chopped
Preparation
Heat the oil in a large skillet over medium-high heat. Add the onions and cook until soft – about 4 minutes, then add the garlic and stir through before adding the Mad Dog 357 Habanero Puree along with the chicken broth. Whisk lightly to deglaze the bottom of the pan and then cook until the liquid has reduced by half. Then, add the tomatoes and stir to combine. Add salt, pepper, and sugar to taste – then stir in the oregano and basil. Reduce the heat to low and simmer for about 30 minutes to allow the flavors to combine and the sauce to reduce further.