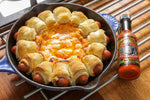 You could call this a great recipe
You're going to serve it at every cookout between now and… well forever.
Sure, it doesn't go on the grill, but it's fiery cheese goodness with hot dog dippers. If you really want to double down, use cheese sausages.
Mmmm good.
 Ingredients
1 tube Crescent Roll dough
1 package Cocktail wieners
Olive oil (for brushing dough)
For the cheesy dip
1 package (8 oz) Cream cheese
1/2 tsp. Mad Dog 357 Gold Edition Hot Sauce
1 cup Cheddar cheese, shredded, plus more for topping
 Preparation
Preheat your oven to 350°F.
Unroll the crescent dough and cut each triangle into three slices. Roll slices around each cocktail wiener. Place little Pig-in-Blankets side-by-side in a skillet to create a wreath shape around the outer edge. Brush the tops with olive oil.
 In a medium-sized bowl, mix the Mad Dog 357 Gold Edition Hot Sauce with the cheeses. Pour cheese mixture into the center of Pig-in-Blanket wreath. Sprinkle the dip with extra cheddar.
 Bake for 20 minutes, or until the dip is bubbly and the cheese has melted.