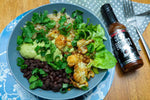 You won't even realize that there's no meat in this burrito bowl.
Mostly that's because your mouth will be on fire from the very first bite. No matter how hot it gets, you'll keep shoveling it in too, because the flavors are just so intoxicating.


Yes, that good. Give it a go; you'll see.


Serves: 4
You'll need:
for the ghostly cauliflower
½-1 tsp Mad Dog 357 Pure Ghost Hot Sauce
1 head cauliflower, cut into florets
1 tbsp. oil
¼ tsp each: salt, cumin, onion powder

For the rice

2 cups cooked rice
1 lime, zested and juiced
½ tsp salt
4 handfuls torn lettuce
2 cans chili black beans
¾ cup guacamole mixed with ¾ water
¼ teaspoon black pepper
1 handful each: sliced green onions, chopped fresh cilantro
Preparation

First, prepare the ghostly cauliflower by tossing the Mad Dog Pure Ghost Hot Sauce with the remaining ingredients. Then, heat a large skillet over medium heat and add the ghostly cauliflower mix. Cook, stirring regularly, for 15-20 minutes, until soft and just beginning to char.

Meanwhile, combine the ingredients for the rice and set aside.

Assemble four burrito bowls with the lettuce, rice, beans, and the ghostly cauliflower when it's ready. Spoon over the guac mixed with water, then sprinkle over the remaining ingredients. Serve immediately and enjoy it.