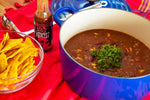 This is one of the quickest, easiest, and most flavorful soups that you can imagine.
And, it's possible that you've got all the ingredients in your kitchen already.
This recipe serves four, but only calls for two chicken breasts. Don't be tempted to add more – this soup really doesn't need it. If you want to extend this recipe a bit, feel free to add a cup of frozen corn kernels. And, you can always dress it up at the end with sour cream, green onions, black olives and a sprinkling of shredded cheese. But it's spectacular on its own.
Just a quick tip, the preparation on this recipe moves quickly. It's best if you get everything ready before you turn on your stove. Oh, and if you want to give this soup a go with the Mad Dog Silver Collector's Edition Hot Sauce.
We suggest starting with half a teaspoon and working your way up.
Ingredients
2 each Chicken breasts, boneless & skinless, cut into small strips
1 tablespoon Cumin
1-2 tablespoons Butter
1 medium Onion, chopped
4 cloves Garlic, roughly chopped (not minced)
2 tablespoons Balsamic vinegar
1 can diced tomatoes
1 can Kidney beans, lightly drained
4 cups Chicken broth
¼ cup Parsley, chopped
1 tablespoon Mad Dog Pure Ghost Hot Sauce
Crushed corn chips, to serve
Preparation
Season the chicken with the cumin. Feel free to add a bit more spice if you need, or a little salt and pepper if you prefer. Set aside
Heat the butter in a large stainless steel stockpot over medium-high heat (you'll need to deglaze at one point, so you don't want to use your expensive Le Creuset pots). Add the chicken to the pan and cook for about 4-5 minutes until every piece is browned. Remove chicken to a plate.
Add the chopped onion to the pan and sauté for about 3-4 minutes until onions are soft. Add the garlic and stir for another minute until you smell the garlic. Add the balsamic to the pan and deglaze with a whisk (see note below if you're not sure how to deglaze a pan).
Return the chicken (along with all those good juices) to the pan. Add in all the remaining ingredients except the Mad Dog Pure Ghost Hot Sauce. Stir to combine. After 5 minutes (long enough for chicken juices to be cooked), taste the soup. Add the Mad Dog and stir through well. Add more to taste. Once you've got the Mad Dog balance perfect, simmer for an additional 10 minutes.
COOKING NOTE: Deglazing a pan is the process where you use a liquid to scrape up all the burned favor bits to mix them into the sauce, or in this case – soup. The easiest way to do this is by lowering the cooking temperature slightly, pouring in the liquid slowly and whisking the bottom of the pan. Incidentally, mastering this technique will give you almost everything you need to make an incredible gravy, but that's another post.
Keep this recipe handy as January is National Soup Month! Give yourself one of our favorite Mad Dog 357 recipes to celebrate.