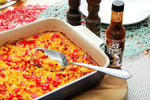 So, we know this isn't a traditional Labor Day dish… yet.
It's definitely going to be on the roster for years to come.
It's got everything you need to make it a success: deliciously fresh corn, a few bell peppers to round out the sweetness, and plenty of Mad Dog heat to take it to the level any side dish should have. Add butter and cream for richness – and then bake the whole thing for under an hour.
(If you wanted, you could always pop this into a foil casserole dish and cook it on the side of the grill.)
It's good weather it's warm or boiling – with a bit of extra Mad Dog on the side, of course. And that makes it perfect for any Labor Day gathering – whether it's at your house, at a friend's or even in the park.
Seriously, what more could you want?
Ingredients
8 ears fresh corn, husked
1-2 teaspoons Mad Dog 357 Pure Ghost
2 each Red bell peppers, diced
1 cup Heavy cream
Salt and pepper, to taste
1 stick butter, sliced into pieces 
Preparation
Preheat your oven to 350°F.
Use a sharp knife to slice all the kernels from the corn ears into a 9" x 13" baking dish. Try to get all the way down to the cob, including all the corn milk you can get.
In the same dish, add the Mad Dog 357 Pure Ghost Hot Sauce along with the red peppers and cream. Season with salt and pepper, to taste. Give everything a good stir, then dot the butter slices over the top.
Place in the oven and bake for 45-55 minutes, until the mixture bubbles and the top begins to brown.