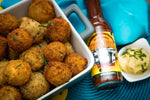 This is the way meatballs should be done.
Okay, we know there are a lot of steps to it, but the Dutch have definitely got it right when it comes to the beef that should be in a meatball. They work with roast beef stuck together with a flour and milk mixture and the result is a beautiful, gooey mess of beef – and in this case, the heat of a very Mad Dog.
And, you can make meatballs for a crowd with this recipe – it makes about 60, so you can lay them on a buffet for March Madness, or just sit around, shoveling them into your mouth as we do.
But, you'll want to get going early, as this does take longer than your average meatball.
Ingredients
¾ cup Butter
¾ cup Flour
3 cups Milk
½-1 teaspoon Mad Dog 357 Original Hot Sauce
3 tablespoons Worcestershire sauce
½ cup Chives, finely chopped
4½ cups Roast beef, cooked rare and finely chopped (about 2 pounds of roast)
Salt and pepper, to taste
Flour, for dusting
6 large eggs, beaten
4½ cups Dry breadcrumbs
Oil, for deep frying
Preparation
Melt the butter in a large saucepan, then add the flour and whisk until combined. Add the milk and whisk continuously until the mixture thickens. When it's really thick, add the Mad Dog 357 Original Hot Sauce along with the Worcestershire sauce, chives, the beef and salt, and pepper to taste. Pour the entire mixture onto a baking sheet and place in the freezer to solidify.
TIP: Don't let it get too hard or it will be difficult to work with.
When the mixture has set, roll tablespoonfuls into balls. Dust balls in the flour, dip in the egg and then coat in breadcrumbs. Place prepared bitterballen on a baking sheet and place in the fridge for at least 30 minutes.
TIP: Using large plates or trays (rather than bowls) for the flour and breadcrumbs will make it easier to work with multiple bitterballen at once.
Heat a couple of inches of oil in a wok and drop balls in a few at a time and fry until golden. Drain on a paper towel and repeat with remaining bitterballen. Serve with Dijon mustard and cold beer.