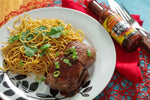 If you're trying to wow someone special this Valentine's Day, this Beef Burgundy  filet is, perhaps, the best way to do it.
Now, we know it takes some time (you really do want to allow the steaks to marinate), but it's seriously scrumptious and totally worth the effort.
And, luckily, you can prepare a lot of it in advance so you just look like a wizard in the kitchen.
As for the heat, control it as you will. We think that the more Mad Dog, the better, but a little goes a long way in this incredible dish.
Serve with anything you like – and another bottle of Burgundy.
Ingredients
a few drops Mad Dog 357 Original Hot Sauce
2 cups Burgundy wine (plus a splash, divided)
¾ cup of Vegetable oil
¾ cup of Soy sauce
1 cup Oyster sauce
1 clove Garlic, minced
¾ teaspoon Dried oregano
2 tablespoons Sour cream
4 (6 oz.) fillets Filet Mignon
¼ cup Butter softened
½ tablespoon Shallots, minced
½ tablespoon Green onions, minced
½ teaspoon Ground white pepper
Preparation
In a medium saucepan, mix a few drops of the Mad Dog 357 Hot Sauce with the Burgundy wine, oil, soy and oyster sauces, garlic, and oregano. Bring to a boil, and then remove from heat. Remove 1/3 of the sauce and place in the refrigerator for 1 hour, or until chilled. Return the remaining sauce to the heat and allow it to reduce by half. Set aside (you can place it in the fridge if you're preparing the steaks the day before).
Place filet mignon filets in a baking dish, pour the chilled marinade over, cover with foil, and refrigerate for at least 5 hours (overnight is just fine).
Cream the butter with 1 teaspoon of Burgundy wine together in a medium bowl. Mix in the shallots, green onions, and pepper by hand. Feel free to add just a drop of Mad Dog 357 Hot Sauce before covering and chilling in the fridge.
When ready to cook, return the reduced sauce to a pan and heat through. Stir in the sour cream just before serving.
Preheat oven to 200ºF. Pan-fry steaks in a large skillet over high heat until done to your liking (turning only once). Place into a clean baking dish, top with dollops of the Burgundy butter mixture. Place in the oven and cook until the butter is just melted. Allow the meat to rest for 5-10 minutes before serving to ensure all the tender juiciness you could ever want in a steak. Serve with a scoop or two of reduced sauce over the top.