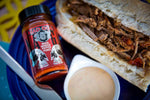 There is nothing like slow-cooked shredded beef – especially if it's topped with the most incredible horseradish sauce.
And, our version will put anything you've ever tasted to shame. This Hellfire Horseradish Sauce will blow your mind. Fortunately, this recipe makes enough to feed a crowd. Or, if you're feeling selfish, you can indulge for days on end.
Which one you choose is up to you and we recommend both!
Ingredients - Hellfire Horseradish Sauce
½ – 1 teaspoon Mad Dog Naga Morich Pepper Puree
4 tablespoons Mayonnaise
½ cup Sour cream
2 teaspoons prepared horseradish
Ingredients - Slow-Cooked Beef
2-3 pound Beef roast (with fat)
1 packet taco seasoning
1 can (15 ounces) Chopped tomatoes
a small handful Thyme leaves
Beef stock (or water), enough to cover the roast in a slow-cooker
To Serve
French bread or hot dog rolls
Preparation
To prepare the Hellfire Horseradish Sauce, mix the Mad Dog Naga Morich Pepper Puree with the other ingredients and chill in the fridge until ready to use.
To prepare the beef roast, place all the ingredients in a slow-cooker and cook on auto for 10-12 hours (or about 6 hours on high and 6 hours on low). Remove and shred beef with forks, then return to the slow-cooker. Allow shredded beef to soak up juices while cooking, uncovered, for half an hour.
To serve, slice open the bread and spoon on the Hellfire Horseradish Sauce. Top with (drained) shredded beef and enjoy.