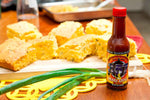 We know that you've been dousing your cornbread with Mad Dog hot sauces for ages now. 
But, have you ever considered adding it to the batter?  Here's how to make the most incredibly delicious batch of cheesy cornbread that you've ever had…
Compliments of Mad Dog, of course.
 Ingredients
3 cups Flour
1 cup Polenta (yellow cornmeal)
¼ cup Sugar
2 tablespoon Baking powder
3 teaspoon salt
1 teaspoon Mad Dog 357 Hot Sauce
2 sticks butter, melted
2 cups milk, plus 2 tablespoons to loosen batter when mixing
3 large eggs, beaten
2 cups Sharp cheddar cheese, grated cheese
4 each Green onions, chopped
 Preparation
Preheat oven to 350ºF.  Grease a 9" x 13" baking tray.
Combine dry ingredients in a large bowl. In another bowl, combine Mad Dog 357 Hot Sauce, butter, milk, and eggs.  Pour into the flour mixture and stir together gently. Do not over mix. Mix in 1½ cups of the cheese and the green onions, reserving a half cup of the green tops.  Pour batter into the pan and smooth the top. Sprinkle on the cheese and onion. Bake for 35-45 minutes.  Test with a toothpick before switching off the oven.  Serve warm (perhaps with a dollop of sour cream).