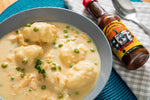 Grammy season always seems like the perfect time to reflect on music through the ages.
Whether you're into your music or you're into your food, you'll probably need to take a look at this recipe. We've adapted it from one of Dolly Parton's favorite dishes, intensifying it with serious heat, so that everyone (Southern or not) can fall in love with it.
The funny thing about this recipe is that it's just about the easiest thing you've ever made, even though it seems as though dumplings in the sauce would be a headache (they're really not).
And, the Mad Dog Original Hot Sauce really does an amazing job of highlighting the good that's left in the frozen veggies and offering them a new, burning life that basically explodes in your mouth, while the dumplings do the work of tempering the heat.
Need another excuse to tuck into this decadent dish? Why not just stick with "it's Grammy's season" and leave it at that.
We don't think anyone will question that; do you?
Ingredients
1½ cups Milk
1 cup frozen peas and carrots
1 cup Chicken, cooked and chopped
1 can Condense creamy chicken mushroom soup
1 teaspoon Mad Dog Original Hot Sauce
1 cup Flour
1½ teaspoons Baking powder
¼ teaspoon Salt
1 tablespoon butter, melted
1/3 cup Milk
Paprika
Preparation
Heat the milk, vegetables, chicken, and soup in a saucepan, stirring frequently, until the mixture boils Add the Mad Dog Original Hot Sauce. Reduce the heat to low and cover.
Meanwhile, mix the flour, baking powder, salt, butter, and milk in a mixing bowl until a soft dough forms. Drop spoonful's of this mixture into the Mad Dog sauce (being careful not to splash the sauce as you do so). Then, sprinkle with the paprika and cook, uncovered for 10 minutes, then covered for 10 minutes before serving with plenty more Mad Dog on the side.