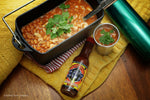 Having trouble coming up with ideas to bring for a winter's picnic?
Whether you're at the ski resort, heading off for an outdoor ski rink, or you just need something quick and hot after building a snowman in the yard, this chicken chili is exactly what you're looking for.
For a start, you probably have everything you need in the kitchen already. More importantly, it's super quick and wildly tasty. You'll get the traditional chicken chili taste, but it's done in a flash. Really, you may never go back to whatever recipe you had before this one.
Plus, it's enough to feed a crowd. Okay, you'll get six servings out of it, but if you add a little more Mad Dog, maybe you won't have to share.
Poured into a thermos, you'll be ever so thankful when you pour this into your mug when you're cold and tired. You'll probably start craving it at the office, so you may as well make a double batch.
If you don't; we can't say we didn't warn you.
Ingredients
1 pound chicken breasts, skinless, boneless, cut into bite-sized chunks
¾ teaspoon Salt, divided
1 tablespoon Vegetable oil
½ teaspoon Mad Dog 357 Original Hot Sauce
½ each Onion, sliced
1 clove Garlic, minced
2 teaspoons ground cumin
1 teaspoon ground coriander
½ teaspoon Dried oregano
2 cans (15.5 oz.) Cannellini beans, drained
1 cup Water
1 can (14 oz.) Chicken broth
1 can (14.5 oz.) diced tomatoes
¼ cup Fresh cilantro, roughly torn
Preparation
Rub about ¼ teaspoon salt over the chicken pieces and set aside. Heat the oil in a Dutch oven or stockpot over medium-high heat. When hot, add the chicken pieces and sauté for 4-5 minutes until the meat is no longer pink.
Add the Mad Dog 357 Original Hot Sauce to the pot along with the onion, garlic, and spices. Sauté for 3 minutes, then add the beans, water, broth, and tomatoes. Add remaining salt, more or less, to taste. Bring to a boil, then reduce the heat to medium and simmer for 5 minutes.
Gently mash the mixture, crushing as many beans as possible, and stir to recombine all the ingredients.
Remove from the heat, stir in the cilantro, and pour into thermoses.