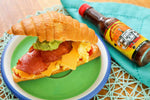 Nothing screams breakfast more than bacon and eggs
Nothing makes chili heads happier than dousing both of those with Mad Dog 357 Original Hot Sauce.
But, we would never have been completely settled until we transformed an otherwise ordinary sandwich into the ultimate breakfast dish with plenty of Mad Dog 357 Original Hot Sauce to make it the best damn thing you've ever eaten for breakfast.
We've written out the recipe for four people, because. Well, because everyone is going to need one of these super easy, yet frighteningly hot breakfast sandwiches. It's not even a question.
And, really, there's nothing more you could ask for, is there? They're easy to prepare and yet, so scrumptiously delicious that you'll never be able to go back to a bowl of cereal again (Why would you? Cereal in milk is just not conducive to super hot sauces, though we suppose you could make it work in a pinch.)
The only thing you might want to change is an easy doubling of the bacon. After all, hold yourself back?
Now enjoy and be sure to take this sandwich with you somewhere to make strangers salivate...
Ingredients
4 each Croissants
4 slices Bacon
8 each Egg
1-3 drops Mad Dog 357 Original Hot Sauce
Ketchup
4 slices Cheddar cheese
Guacamole
Preparation
Preheat your oven to 350ºF. Place croissants on a baking sheet and toast for a few minutes in the pre-heated oven (until just toasty and warm).
Cook the bacon slices in a large, non-stick skillet over medium-high heat. Remove, drain, and set aside (but keep warm).
Crack the eggs into a bowl and add the Mad Dog 357 Original Hot Sauce drops into the mix. Use a fork to lightly scramble. Pour into the same skillet and cook, continuing to scramble until cooked to your liking.
To assemble your sandwiches, split open the croissants, and add layers of ketchup, eggs, cheese, bacon, and guacamole before replacing or folding over the top of the croissant. Don't forget to add a few more drops of Mad Dog 357 Original Hot Sauce if you can handle the heat. (This is definitely a sandwich you want to brag about, so we recommend taking it to work with you – or anywhere else you can make people jealous.)