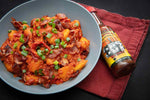 With the first bite, you'll fall in love as you fall off your chair.
Seriously, the heat will knock your socks off and the flavors soaked in by the potato gnocchi will wow you in ways you've never imagined.
This isn't for the faint-hearted, no matter how much cream you think you've put in to balance the burn. (Though, you could always feel free to add in more or less Mad Dog to your liking.)
It's rich. It's creamy. It's potatoes, bacon, and tomatoes done Italian style, with one hell of a twist.
And, once you find your socks and wipe away the shock, it's going to be your new favorite pasta.
Serves: 2
You'll need:
½ teaspoon Mad Dog 357 Original Hot Sauce
1 pound Gnocchi 
6 slices Bacon 
5 cloves Garlic, minced
1 cup Heavy whipping cream 
½ cup each: Tomato paste, Sun-dried tomatoes
½ teaspoon Salt
1 Scallion, thinly sliced
Preparation
Cook the gnocchi according to package instructions, drain and set aside. Cook the bacon in a large skillet over medium-high heat until crispy. Transfer to a paper towel to drain and crumble when cool enough to handle.
Meanwhile, combine the Mad Dog 357 Original Hot Sauce with the cream, tomato paste, and salt. Mix well and set aside.
When the bacon is done, add the garlic and sun-dried tomatoes and reduce the heat to medium. Cook for a few minutes until the garlic starts browning. Add the gnocchi to the pan and toss to coat with the pan juices, then add the Mad Dog sauce and reduce the heat to medium-low. Cook until everything is heated through, then serve the gnocchi and sauce in bowls, topped with crumbled bacon and scallions.