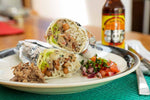 When massive, fast-casual burritos hit the scene, people went wild for them – and now they're a staple that you just need to have.
This recipe isn't about making it cheaper (though you may save a bundle if you're feeding eight, as this recipe will) – it's about the delicious burn of Mad Dog slow-infused into every delicious bit of beef.
Now, that sounds good, doesn't it?
Ingredients
For the barbacoa
1-3 teaspoons Mad Dog 357 Hot Sauce
1⁄3 cup Apple cider vinegar
3 tablespoons Lime juice
4 cloves Garlic, roughly chopped
2 teaspoons ground cumin
2 teaspoons Mexican oregano
1½ teaspoons Black pepper
1½ teaspoons Salt
½ teaspoon Ground cloves
2 tablespoons Vegetable oil
4 pounds Chuck roast, trimmed of fat, sliced into 6 smaller pieces
¾ cup Chicken broth
3 each Bay leaves
For the burritos
8 large Flour tortillas, warmed
Cooked rice (preferably with some chopped cilantro and a squeeze of lime mixed in)
Pinto or refried beans
Pico de gallo
Cheddar cheese, shredded
Guacamole
Sour cream
Preparation
Make the Mad Dog barbacoa sauce by combining the Mad Dog 357 Hot Sauce with the vinegar, lime juice, and spices in a food processor. Whizz until smooth.
Heat the oil in a large stockpot over medium heat. Add the beef and sear it on all sides until browned. Add the Mad Dog sauce with the chicken stock and bay leaves. Stir to combine, then reduce the heat to medium-low and cover the pot.
Cook for 5-6 hours, until meat flakes apart, turning every half hour and removing the lid after 4 hours.
To assemble your burritos, layer the Mad Dog barbacoa, rice, beans, pico de gallo, cheese, and sour cream or guacamole if you like. Roll and enjoy the heat.