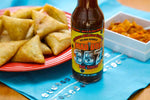 Looking for an international dish that'll pull you out of a snacking slump?
These spicy Indian-inspired samoosas will do just that. In fact, you'll start calling them a meal instead of a snack after you scarf the whole batch down in a single go.
Seriously, these are worth the small amount of effort you'll put in.
Makes: +/-16 samoosas
You'll need:
2 tbsp. oil
½ onion, diced
2 cloves garlic, minced
1 tsp each: curry powder, white pepper
½ tsp each: cayenne pepper, smoked paprika
½-1 teaspoon Mad Dog 357 Original Hot Sauce
½ lbs. ground beef
½ c peas
+/-16 samoosa wrappers, defrosted
oven preheated to 375°F
baking sheet lined with parchment paper
Preparation
Heat the oil in a large skillet over medium-high heat. Add the onions and garlic and cook, stirring frequently for about 3 minutes. Add the spices, and continue to cook for another 2 minutes. Pour in the Mad Dog 357 Original Hot Sauce and add the meat. Stir to combine, then add the peas, and season to taste with salt. Cook for another 5-7 minutes, until the beef, is just cooked. Remove the skillet from the heat and set aside to cool.
Layout the samoosa wrappers and spoon a few tablespoons of the filling into each one. Fold into triangles and keep wrapping and folding (as per the instructions on the samoosa wrapper packaging). Continue this until you run out of filling or wrappers.
Place samoosa triangles on the lined baking sheet and place in the oven for 20 minutes, flipping them once halfway through. Feel free to serve with traditional Indian sambals.
Try some of our other great Mad Dog 357 recipes.

Killer Chicken Chili
Mad Dog Bacon Noodles
Knock-Your-Socks-Off Gnocchi