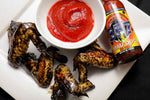 It's always fun to play a little prank for Halloween – and these chicken wings are just the way to do it.
Using black food coloring along with Asian flavors, your friends will think the joke is in the appearance of these wings. They'll look a little spooky – but the prank is all in the hot sauce.
We've used Mad Dog 357 Hot Sauce to draw out the flavors of the ginger and garlic, not to mention all those green onions. And the burn is definitely going to catch someone (perhaps everyone) off guard.
Of course, we recommend doubling, tripling, or quadrupling this recipe so you have enough to go around. You'll need it; once the shock has passed, you'll quickly find these disappearing from your Halloween buffet or dinner table. They're that good. Luckily, this recipe is super easy to throw together and although it takes a little time, it doesn't take that much effort.
If you really want to surprise folks, serve it with a bowl of dipping sauce with even more Mad Dog hidden inside – they'll never know what hit them. And, to make the most of the flavor, we really do suggest letting these marinate overnight. 
It really makes a difference with this recipe.
Ingredients
½-1 teaspoon Mad Dog 357 Hot Sauce
½ cup of Soy sauce
¼ cup Sesame oil
1 tablespoon Brown sugar, packed
2 teaspoons fresh ginger, minced
2 cloves Garlic, minced
5 stalks Green onions, minced
½ teaspoon Black food coloring
12 whole Chicken wings
Preparation
Combine the Mad Dog 357 Hot Sauce with all the other ingredients in a gallon-sized Ziploc bag. Shake or rub everything together, then marinate in the fridge for at least one hour up (overnight is better).
Preheat your oven to 375ºF. Line a baking sheet with baking paper. Shake excess marinade from the wings and place in a single layer on the lined baking sheet. Bake wings for 45 minutes - or until cooked through and the meat begins to pull away from the bones