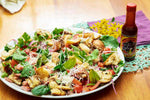 Whether you're looking for a fresh, yet scorching, lunch for friends
Or you want to treat mom to an awesome meal on Mother's Day, this recipe will make you (and everyone else smile).
It's decidedly simply to prepare, cooking up quickly with just a few ingredients in the pan. Not only that, but it also looks amazing on a serving platter.
But, besides the burn of our original Mad Dog 357 Hot Sauce – of course, the best part must be that this looks like a healthy salad but tastes like a gourmet sandwich.
Give it a try, you'll see exactly what we mean. Actually, we don't think we should leave it as a suggestion.
Making this recipe for 4 people is more of a command.
Ingredients
12 ounces Bacon (thick-cut) cut into pieces
2 cups Ciabatta, torn into small pieces
Kosher salt and freshly ground black pepper, to taste
2 cloves Garlic, minced
a few drops of Mad Dog 357 Original Hot Sauce, to taste
3 tablespoons Balsamic vinegar
5 ounces Arugula
1 pound, Tomatoes (mixed varieties), cut into small pieces
1 small Red onion, thinly sliced
½ cup Fresh parsley, chopped
½ cup Basil leaves, torn
 Preparation
Fry the bacon in a large skillet over medium heat until crisp, about 5-7 minutes. Remove bacon using a slotted spatula onto a plate lined with a paper towel. Pour half the bacon fat into a small bowl and reserve (you will use it again).
Add the bread cubes to the pan and toss in the bacon fat. Season with salt and pepper to taste and toast, tossing occasionally until golden and crisp - about 5 minutes. Transfer croutons to a bowl and set aside.
Return the reserved bacon fat to the skillet and add the minced garlic to the pan. Sauté until soft and fragrant - about 1 minute. Remove the skillet from the heat (and turn off the heat) and stir in the Mad Dog 357 Original Hot Sauce along with the balsamic and vegetables. Top with the bacon and croutons and serve.