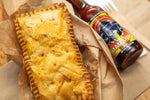 Think it's difficult to get your Mad Dog fix on a road trip?
Think again!
This recipe proves just how easy it is to enjoy Mad Dog while driving across the state – or the country.
Each of these little hand pies is enough to give you the burn you crave and keep your belly full in between stops. They're so good that you won't bother stopping off for fast food during your drive.
The recipe makes 8 pies and they hold up well in a cooler box or an insulated bag if you want them warm (and relatively early) on your drive. Whether you have a car-full or a small van, you'll get plenty of miles out of these pies. And, as a bonus, the Mad Dog kick will certainly help keep the driver awake.
Really, the question becomes… why haven't you had these on your road trips before... right?
Ingredients
2 tablespoons Olive oil
1 medium Onion, sliced
1 small Russet potato, cut into small cubes
Salt and pepper, to taste
a few drops Mad Dog 357 Original Hot Sauce
3/4 cup Peas, defrosted if frozen
1 tablespoon Red wine vinegar
1 1/2 cup Roasted turkey (or chicken), shredded
2 sheets refrigerated rolled pie crusts
1 small egg, beaten
Preparation
Preheat your oven to 400°F. Line a baking sheet with foil or parchment paper.
Heat the oil in a large, non-stick skillet over medium heat. Add the onion and potato, and cover. Cook, stirring occasionally, until the potato becomes soft, about 8-10 minutes. Season with salt and pepper, to taste, then add the Mad Dog 357 Original Hot Sauce and cook for another minute. Remove from the heat.
Stir in the peas and vinegar and mix well. Then, fold in the cooked turkey (or chicken).
Unroll the pie crusts and cut each one into 4 squares (or triangles, if you prefer).
Divide the Mad Dog turkey and veg mixture between the pie crust pieces (keep it all to 1 side for ease). Fold the dough over and press the edges with a fork to seal them shut.
Place the hand pies on the baking sheet and brush with the beaten egg. Place the tray in the oven and bake until golden brown, about 25-20 minutes. Wrap individual pies in foil.