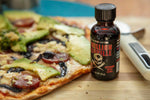 1 Million Scoville Pizza Supreme
It's the pizza you've always feared… and always wanted to try.

Yeah, it's an incredible flavor combination when it comes to pizza toppings, but let's be honest, it's the Mad Dog 357 Eco 1 Million Scoville Extract that makes this the triumph it really is.

While you could just make the blazing hot sauce and top with whatever pizza topping you have on hand, you'll want to take the time to make this mix.
It's totally worth it.

Serves: 4
You'll need:
2 tablespoons olive oil
1 onion, sliced
a pinch of sugar
a few drops
Mad Dog 357 Eco 1 Million Scoville Extract
1 cup pizza sauce
4 individual-sized pizza bases
2 cups mozzarella cheese, shredded
½ pound chorizo sausage, cooked and sliced
1 cup feta cheese, crumbled
1-2 avocados, sliced
oven preheated to 450°F
Preparation
Heat the oil in a skillet over medium-low heat. Add the onions and the sugar and cook, stirring occasionally until the onions are soft and caramelized.
Meanwhile, combine the
Mad Dog 357 Eco 1 Million Scoville Extract
with the pizza sauce and set aside.
When the onions are ready, assemble the pizzas by spreading a layer of Mad Dog pizza sauce on the bases, top with the mozzarella cheese, chorizo, caramelized onions, and feta cheese. Place in the oven and bake for 15-20 minutes, or until the crust is golden and the mozzarella is melty.
Top with slices of
avocado
and serve with your favorite Mad Dog hot sauce on the side.