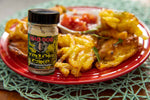 If you're a fan of Indian food, you'll recognize these starters from the appetizer section of your favorite restaurant menus.
We've spiced the hell out of the standard version with our killer Yellow Cake Capsicum Powder, filling each morsel of these fried little bites with over a 1.6 million Scoville. Your mouth will pop, your taste buds will explode and you'll find yourself inescapably smiling while the sweat pours from your forehead.
You don't need any fancy ingredients, and you'll spend almost no time making these Fiery Fried Onion Bhajis.
If you're feeding a crowd, plan on these disappearing almost as fast as you scoop them from the pan. 
Serves: 4
You'll need:
4 oz. self-raising flour
1 - 2 dashes Mad Dog 357 Yellow Cake Capsicum Powder
½ teaspoon each: cumin, turmeric, salt
½ - ¾ cup of water
2 onions, thinly sliced
vegetable oil, for frying
Preparation
In a large mixing bowl, combine the flour with the Mad Dog 357 Yellow Cake Capsicum Powder with the spices. Stir in just enough water to form a thick batter. Start with a half-cup, and only add in more if the batter is dry and lumpy. Stir in the onions and toss to mix and coat well.
Heat 2" of vegetable oil in a wok (or deep frying pan) over medium heat.
Working in batches, gently scoop heaping tablespoons of the Yellow Cake coated onions into the oil. Cook each scoop for about 4 minutes, turning about halfway through to crisp both sides. Drain excess oil when lifting out of the pan and set aside while cooking the remaining bhajis.
Serve with store-bought or homemade chutney, and your favorite Mad Dog hot sauce on the side.