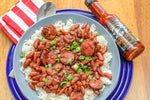 This winter warmer for six is the perfect way to celebrate National Bean Day on January 6th 
Not only is it wonderfully filling and economical, but it's also got a bite from heaven (or hell, depending on how you want to look at it). That, of course, is thanks to our Mad Dog 357 Silver Collector's Edition Hot Sauce.
And, let's be honest, chucking it all into a pressure cooker makes it so much easier to enjoy. Even without soaking, you'll get soft beans that soak up all the flavors of the veggies and all the heat of the hot sauce.
Ingredients
1 tablespoon Olive oil
½ pound Andouille sausage, sliced
a few drops Mad Dog 357 Silver Collector's Edition Hot Sauce
1 Onion, diced
1 Green bell pepper, diced
3 stalks Celery, diced
4 cloves Garlic, minced
1 teaspoon dried thyme
1 teaspoon dried oregano
1 teaspoon smoked paprika
1/4 teaspoon Cayenne
Salt and black pepper, to taste
1 pound Kidney beans, dry and uncooked, rinsed
4 cups Chicken stock
6 cups cooked rice
3 stalks Green onion, sliced
 Preparation
Add the oil and sausage slices to your pressure cooker and set to the fry or sauté function. Add a few drops of the Mad Dog 357 Silver Collector's Edition Hot Sauce and stir to distribute it (you may want to go easy at first; you can always add more at the table).
Add the veggies to the pot and sauté everything for 6-7 minutes, until the meat is browned and the veggies have softened slightly.
Add the spices along with the beans and chicken stock, stir to combine.
Turn off the fry function and secure the lid on your pressure cooker. Cook on high pressure for 1 hour. Release the pressure and carefully open the cooker. Check to make sure the beans are soft (if not, reset for an additional 15 minutes) then smash a few beans against the side of the pot to thicken the liquid. 
Taste to ensure you've got the perfect balance of Mad Dog 357 Silver Collector's Edition Hot Sauce – and for salt before serving over the cooked rice, with a sprinkling of the green onions