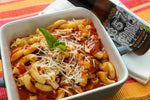 No matter how much of a hurry you're in, there's always time for pasta.
And, with a dash (or more) of Mad Dog 357 Ghost Pepper Hot Sauce, you don't need a bunch of ingredients either. This sauce will make short work of dinner for four. But, let's be honest, if you're short on time, you'll want some leftovers; all you need to do is add a poached egg and call it breakfast.
Ingredients
1 pound Pasta, you're favorite – uncooked tablespoons Olive oil
3 cloves Garlic, minced
1 teaspoon 
Mad Dog 357 Ghost Pepper Hot Sauce
1 can (28oz) Whole peeled tomatoes
2 tablespoons Tomato paste
6 fresh basil leaves, chopped
½ cup fresh grated Parmesan, for topping
1/3 cup finely chopped flat-leaf parsley, for topping
14 large Jalapeño peppers
1 teaspoon
Mad Dog 357

 

Ghost Pepper Hot Sauce
4 ounces Cream cheese,
14 miniature Smoked sausages
7 strips Bacon strips, cut in half lengthwise
Preparation
Cook the pasta according to package instructions. Drain and set aside; keep warm.
Meanwhile, heat the oil in a large skillet over medium heat. Add the garlic with the Mad Dog 357 Ghost Pepper Hot Sauce and cook for 30 seconds, then add the tomatoes, crushing them roughly with the back of a wooden spoon. Add the tomato paste, bring to a simmer, then reduce the heat to low and cook for 5-10 minutes. Remove from the heat and stir in the basil.
Stir in the cooked, drained pasta and toss well. Add salt and pepper, to taste, and serve with plenty of parmesan and chopped parsley.