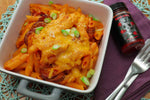 Nothing beats a hot bowl of cheesy, gooey pasta when the fall weather begins to settle in for the season.
No really, think about it – there's nothing so comforting and warming. Perhaps that's why the powers that be decided that October is National Pasta Month.
And, this pasta takes everything to the next level. For a start, it's an all-in-one-pan type of recipe, which you have to admit is always the best. Too many dishes – no thank you. And, it's more than just a sauce with some penne to beef up the base; the pasta is baked into the whole mixture.
The delicious sausage is complemented by the Monterey jack cheese – which is enough deliciousness for mere mortals. But, we didn't stop there. We added in the flavor and heat of Carolina Reapers with our (super easy to work with) pepper puree. If you're not afraid of the heat, feel free to add a little more. C'mon, you know you want to!
In fact, if we had to guess, this would easily be the recipe you crave all winter long. (We're not sure the summer sun would put a halt to it either; just crank up the AC and standing in front of the stove for a few minutes won't scare you at all.) The only downside? This recipe serves just four people, and most people just don't have a skillet large enough to double or triple it. 
If you do, go for it – you won't regret it for a minute.
Ingredients
1 tablespoon Olive oil
1 pound smoked sausage
1½ cups Onion, diced
2 cloves Garlic, minced
½ teaspoon Mad Dog 357 Carolina Reaper Puree (more if you can handle the heat)
2 cups Chicken broth
1 can(10 oz.) crushed tomatoes
½ cup Heavy cream
8 ounces Penne pasta
½ teaspoon Salt
½ teaspoon Pepper
1 cup Monterey jack cheese, shredded
1/3 cup Scallions, thinly sliced
Preparation
Preheat the broiler on your oven to high.
Heat the oil in a large, oven-proof skillet over medium-high heat. You want it to get to the point of just smoking. Add the sausage and onions and cook for about 4 minutes, until lightly browned. Add garlic and cook until fragrant, about 30 seconds.
Add the Mad Dog 357 Carolina Reaper Puree, broth, tomatoes, cream, pasta, salt, and pepper. Stir to combine and bring to a boil. Then, cover the skillet, and reduce the heat to medium-low. Simmer for about 15 minutes, until pasta is tender.
Remove from the heat and stir in half the cheese. Sprinkle with the remaining cheese and place the skillet under the broiler until the cheese is bubbly and slightly browned. Scatter over the scallions and serve hot with your favorite Mad Dog hot sauce on the side.