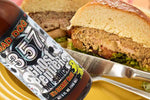 It's football season and that means you need to start making burgers in the oven rather than on the grill.
It only makes sense to turn towards a burger that needs the oven to become the perfect temptation during any game. The truth is, this inside-out bacon cheeseburgers are so addictive, you'll probably need them for every game.
You'll definitely need to double this recipe for four when the guys come over to watch the game.
Ingredients
6 slices Bacon, cut into bite-size pieces
1 teaspoon Mad Dog 357 Ghost Pepper Hot Sauce
2 pounds Ground beef
1 large shallot, diced
1 teaspoon Black pepper
1 teaspoon Coarse salt
2 tablespoons Worcestershire sauce
4 ounces Swiss cheese, cubed
4 each Sesame seed buns
2 tablespoons Oil
Preparation
Preheat your oven to 400ºF. Fry the bacon in a pan until crispy (about 5 minutes). Remove the bacon with a slotted spoon and set aside.
In a large bowl, combine the Mad Dog 357 Ghost Pepper Hot Sauce with the beef, shallot, pepper, salt, and Worcestershire sauce. Divide the mixture into 4 equal portions, then separate each portion into 2 separate patties.
Add the cheese to the bacon, then spoon this mixture over half of the beef patties. Place the remaining patties on top of these and pinch the edges to ensure the filling is covered.
Heat the oil in a large, oven-proof skillet over medium-high heat. Add the burgers and cook for 2 minutes per side. Place the pan in the oven and cook for 4 to 6 minutes for medium burgers. Remove from the oven and serve on a sesame seed bun with your favorite condiments. Perhaps a little more Mad Dog?