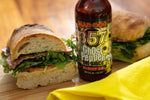 Looking for the best damn Italian-style sandwich?
You've just found it.

Does this recipe look too easy? Don't worry, the Mad Dog 357 Ghost Pepper Hot Sauce mixed with basil pesto sauce has the power to transform even the simplest of sandwiches. In fact, you could probably just slather the sauce on toast and call it a day. (We've done it before.) But, you're really going to love the flavors we've put together here.
Give it a go today.


Serves: 2
You'll need:
½ teaspoon Mad Dog 357 Ghost Pepper Hot Sauce
6 tablespoons pesto sauce
2 panini rolls, sliced open
4 oz. salami slices
4 oz. mozzarella cheese slices
1-2 oz. arugula leaves
1 tomato, sliced

Preparation

In a small bowl combine the Mad Dog 357 Ghost Pepper Hot Sauce with the pesto sauce. Spread a thin layer of this sauce along the inside of the panini rolls. Layer with the remaining ingredients and serve. Or, wrap one and try to save it for lunch tomorrow and chow one now.