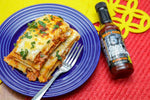 You can, in fact, enjoy all the flavor of lasagna without a headache-level of work going into it.
Better still, when you make it yourself, you can add in the heat you truly crave. Here, we've added a helping of Mad Dog 357 Ghost Pepper Hot Sauce that'll take your breath away.
And, you're going to love it.
Serves: 6-8
You'll need:
4 tbsp. butter
¼ cup all-purpose flour
2½ cups milk
1 lb. each: pre-cooked lasagna noodles, lean ground beef
1 teaspoon Mad Dog 357 Ghost Pepper Hot Sauce
28 oz. marinara sauce
¾ lb. each: cheddar and mozzarella cheeses
salt and pepper, to taste
oven preheated to 350°F
greased 13×9" pan
Preparation
Heat the butter in a large skillet over medium heat. Add the flour and whisk constantly for 2 minutes. Slowly pour in the milk and continue whisking until smooth and then continue cooking for another 5 to 7 minutes until thick. Whisk, as needed, to ensure the béchamel sauce doesn't burn. Remove from the heat and set aside.
Heat a second large skillet over medium-high heat and add the ground beef. Cook, stirring to break up any chunks until just browned. Add the Mad Dog 357 Ghost Pepper Hot Sauce and the marinara sauce. Cook, stirring, until evenly mixed, then remove from the heat.
Assemble the lasagna in the prepared pan, starting with a layer of the béchamel sauce, then sheets of the lasagna noodles, topped with a layer of the Mad Dog meat sauce, and cheeses. Continue layering until you've used all of the ingredients ending with a layer of cheeses.
Cover with foil and place in the oven. Cook for 45 minutes, remove the foil and bake for another 15 minutes. Remove from the oven and let the lasagna stand for 10 minutes before serving hot.
Try some of our other Mad Dog 357 Ghost Pepper Hot Sauce recipes!
Ghostly White Fish Feast
Ghostly Gumbo
Ghost Pepper Peanut Soup