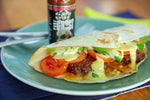 Enjoy it at home, take it on a picnic, or pack it for lunch at the office.
No matter when you eat this, you're going to fall in love. It's just the perfect blend of fresh and fiery with a fine burger tucked in the middle. Now, as it stands, you could make this into two giant burgers or four smaller ones.
And we think you know which one you prefer.
Ingredients
1-2 drops Mad Dog 357 Pure Ghost Hot Sauce
1 pound Ground beef
½ teaspoon Cumin
¼ each Onion, finely diced
2 cloves Garlic, minced
2 tablespoons Cilantro, minced
Salt, to taste
4 small flour tortillas or 2 large Flour Tortillas
1 cup Cheddar cheese, shredded
1 medium Tomato, sliced
½ each Avocado, sliced
For the Ghostly Mayo
¼ teaspoon Mad Dog 357 Pure Ghost Hot Sauce
2 tablespoons Mayonnaise
Salt and paprika, to taste
Preparation
Combine the drops of Mad Dog 357 Pure Ghost Hot Sauce with the ground beef, cumin, onion, garlic, and cilantro in a mixing bowl until well combined. Form two elongated patties (or a couple of small ones) for giant burgers.
Heat a skillet over medium heat (with a dash of oil, if you need). Cook the patties on both sides until cooked to your liking. Remove the cooked burgers and keep warm. Drain the excess fat from the pan.
Meanwhile, combine the Mad Dog 357 Pure Ghost Hot Sauce with the remaining mayo ingredients until completely mixed.
Place a tortilla in the pan and sprinkle over some cheese (divided according to the number of tortillas you have to cook). Cook until the cheese is melted and the tortillas are crispy.
When all the tortillas are ready, place on plate top with burgers, tomatoes, and avos. Spoon over the Ghostly Mayo, fold, and wrap into heavy tin foil.