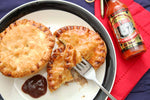 The genius of these incredible pies is that you can pack them for your lunch for the office.
And, you'll want to. They're freaking amazing in a way that you won't soon forget. Of course, that's the bite of the Mad Dog, but we will give a little credit to the steak and beer…
You know, because they all work so well together.
You'll get 6 pies out of the recipe and we totally suggest hoarding them in the freezer rather than sharing.
Ingredients
1 package Short crust pastry
1.6 pounds Chuck steak, cubed
2 tablespoons all-purpose flour
Olive oil, for frying
½ cup Dark ale, plus more to deglaze pan
1 large Onion, peeled and diced
2 sticks celery, diced
2 cloves Garlic, peeled and minced
a few drops to ½ teaspoon Mad Dog 357 Gold Edition Hot Sauce
3 tablespoons Tomato paste
1 tablespoon Worcestershire sauce
1 tablespoon Soy sauce
½ cup Beef stock
Salt and pepper, to taste
1 package Puff pastry
1 small egg, lightly beaten with 1 teaspoon of water
Preparation

Spray 6 ramekins (or small pie tins, if you have them) with cooking oil. Divide the short crust pastry into 6 pieces and use these to line the bottoms and side of the ramekins. Set aside.

Place the beef and flour in a Ziploc bag and toss to coat. Heat 2-3 tablespoons of oil in a large skillet over medium-high and brown the beef (in batches, if needed). Transfer the meat to a bowl and set aside.

Deglaze the skillet with a splash of the ale, then add the onion and celery and cook until almost softened. Add the garlic and cook for about 30 seconds, until fragrant.

Stir in the Mad Dog 357 Gold Edition Hot Sauce, tomato paste, Worcestershire and soy sauce, the stock, and the remainder of the ale. Simmer on medium-low until the mixture has reduced by about 1/3-1/2. Season to taste with salt and pepper. Remove from the heat and allow to cool slightly.

Meanwhile, preheat your oven to 350ºF and divide the Mad Dog beef between the pastry-lined ramekins.

Roll out the puff pastry and cut rounds large enough to cover the pies and pinch onto the top of the short crust pastry.

Brush the tops with the egg wash (egg beaten with water). Poke a hole in the top or sides of each pie to allow steam to escape. Place pies on a baking tray (it's the easiest) and bake for 30 minutes until the pastry is golden. Allow cooling for 5 minutes before serving.